How many days will you keep scribbling the running notes or takes notes from your lecturer at the college? Even if you have taken some running notes you might get confused after some time as it might not have all the information. Sometimes you might forget what is taught at the class and what you have taken down. Although running notes is the important task for students, there should be an alternative where you can have all the information taught at the college. This is only possible only if the lecturer gives you some notes or else you have to be satisfied with running notes or other information from the text books.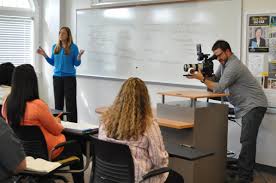 Utilizing the technology we can video graph the class and share it among the students so that they can have all the information. Although this is very efficient method of collecting notes, colleges must spend a few bucks on the infrastructure like cameras and other stuff. There are many advantages of video graphing the class. The same video can be passed on to the next batches if they seem that it is very useful. The video can be watched any number of time whenever required and students need not run to their friends. Unlike books which gets lost or damaged, video can be saved for longer periods. Even if you have not attended the class you can just go through the video and learn things.
Colleges can also develop the video graphing technique to introduce online classes. The same videos can be shared later. The video classes can also be made interactive using conference method if both lecturer and students really require it. But videoconference can be a bit costly. A small portion of the library can also be put aside for the videos saved in the form of CDs or stored on the system. So utilizing the new technology can be beneficial to the students.